Sole E35 Elliptical Machine
If you are looking for complex and substantial workout that would meet your weight loss or resistance needs, this elliptical machine is designed for this very purpose. The Sole Fitness Elliptical has a variety of useful functions which are appreciated by most its users. It gives a smooth yet powerful workout with the help of 16 resistance levels, 10 preset programs and a two-user profile. Being somewhere in the middle between E25 and E95, the Sole Fitness E35 is considered to be the first gym quality bestselling machine in the range of the Sole, which is reliable and fun to use.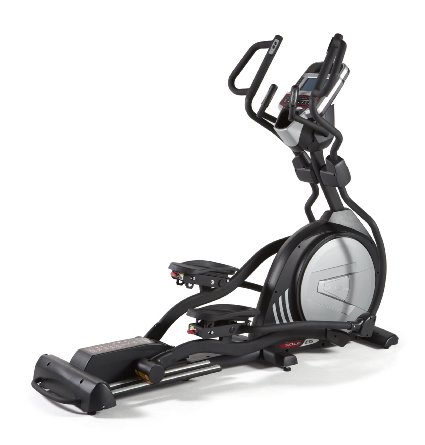 Besides, it has all the features commercial ellipticals possess, which makes this trainer the best to opt for at this price range. Stop leading an unhealthy way of life, buy the Sole Fitness E35, lose weight, challenge yourself and stay motivated.
Check Current Price
on Amazon.com
Pros:
Power incline. This elliptical comes with the feature that allows targeting and toning different groups of muscles more effectively and provides a user with a more powerful cardio workout.
Adjustable pedals. This elliptical trainer was designed with articulating foot pedals which increase the user's comfort. If you feel you are not comfortable, you can manually adjust the angle of the pedals in order to reduce additional stress and strain on your feet.
Comfortable stride length. The Sole Fitness E35 allows 20-22 inch strides which are ideal for an average user and really smooth. However, if you are not tall, you should consider a smaller stride.
Multi-position handle bars. The Sole Fitness E35 can boast extended handle bars which offer a better workout for the upper body muscles.
Advanced sensor system. With special pulse sensor built in the handle bars you will be able to monitor your heart rate and pulse which is extremely necessary for a complex workout.
Quiet operation. This feature is important because too loud sporting equipment makes the workout annoying and unbearable.
Weight limit. In comparison to other elliptical trainers, the Sole Fitness E35 has a 375-pound weight limit.
Cons:
Uneasy assembly. In their reviews some users claim that the process of the Sole Fitness E35 assembly is not as easy as they would like it to be. Moreover, it comes partially assembled.
Weight. The elliptical weighs 215 pounds which makes it rather difficult to move around.
If you are still hesitating whether this is the elliptical for you and want to know more, read more Amazon reviews and make up your mind.
Our Review
The Sole Fitness E35 is considered to be a leader in the list of most comfortable ellipticals on the market, and there is a reason for that. Oversized pedals help to reduce stress on the legs, textured handlebars provide secure grip and the stride is long enough, smooth and practically noiseless, which allows any user to enjoy the workout while watching films or shows. A built-in fan keeps you cool during the exercise and the sound system allows listening to favorite dynamic music providing rhythmic motivation.
The Sole Fitness E35 can boast pre-programmed options and offer a customizable training to those willing to increase stamina and endurance levels. Using the programs you will never get tired from the workout routine and will be motivated.
Features
20 resistance levels
20-22 inch adjustable stride
Adjustable LCD console with 7.5-inch display
Adjustable incline
10 built-in programs (6 standard, 2 heart rate and 2 custom)
Heart rate chest strap and pulse grip monitoring
Sound system
Built-in cooling fan
Water bottle holder
Maximum weight: 375 lbs
Conclusion
The Sole Fitness E35 is a great machine that allows intense and effective workout for upper and lower parts of the body thus making you lose excess weight much faster. With this elliptical you will be constantly motivated due to its numerous benefits and challenging cardiovascular training. The Sole Fitness E35 provides a 2-year warranty on labor and 5-year warranty on electronics and parts, so you can enjoy this elliptical trainer for a long period of time.