Sole E25 Elliptical Machine
Being flexible, durable and good quality for years, Sole Fitness elliptical machines have been a popular option among customers worldwide. The Sole Fitness E25 is considered to be a reputable model due to the upper and lower body workout it provides. And though it's not that cheap (its price is about $1000), it can be called a professional machine because it comprises all those features that ellipticals for $7000 possess.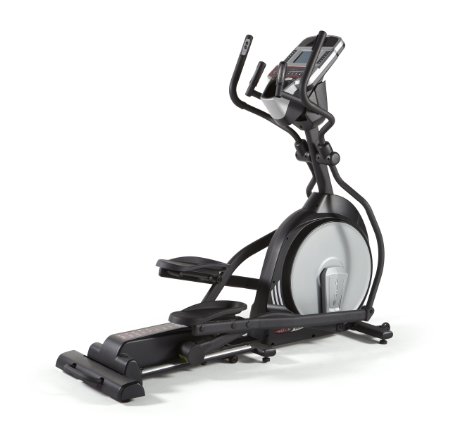 The Sole Fitness E25 is still receiving positive feedback from happy customers who proved there is one step from excess weight to a perfectly toned body. And this step is the purchase of the Sole Fitness E25.
Check Current Price
on Amazon.com
Pros:
Durability and reliability. You won't find an elliptical that would be more durable and reliable than E25 in this price range.
Adjustable stride. The Sole Fitness E25 is perfect for tall users and it sports an adjustable 20-25 inch stride. Changing the stride length allows you to focus on various muscle groups during the workout.
Power incline. E25 features power incline that provides additional resistance. This is extremely advantageous for core muscles. The incline can be adjusted with a simple and fast push of a button.
Heavy flywheel which contributes to natural motions.
Extremely quiet operation. Thanks to the Whisper Drive Quiet System users are able to work out and not to be annoyed by machine noise.
Forward and reverse movements.
Heart rate control with the help of a wireless strap.
Cons:
Price. Here opinions differ: some people say the elliptical is reasonably priced, others argue. But despite that $1000 isn't a small sum of money which means many cannot afford it.
Customer service could be better. As far as this machine has become one of the most frequently purchased, there appeared some delays with customer support and service.
The Sole Fitness E25 gets loads of reviews from customers online, where people say they have spent lots of time on research and opted for this elliptical as a result. To read customers' reviews we recommend you visit Amazon.
Our Review
Certainly, there are cheaper elliptical trainers available on the market today; however, with a difference of just $200 you won't get the quality and durability the Sole Fitness E25 offers. Professional trainers call it the most affordable elliptical for this quality level, that's why if you are looking for a number of great features that will help you lose weight and maintain a perfect body shape, the Sole Fitness E25 is a must-have at home.
There are two heart rate programs which allow you to adjust the intensity of your training and burn calories without posing too much risk to your health. The Sole Fitness E25 is also equipped with articulating pedals that reduce foot and ankle strain, built-in fan and speakers with a plug-in for iPod or MP3.
Features
20 resistance levels
10 programs
20-25 inch stride
Heavy flywheel
Power incline
Heart rate monitor
Whisper Drive Quiet System
6.5 inch LCD screen
Cooling fan
Bottle holder
Speakers
Maximum weight: 350 lbs
Conclusion
If you are willing to get an effective and intense cardio workout to be fit and healthy, the Sole Fitness E25 is the elliptical you just need to consider for home use. This elliptical has a number of positive features which makes it the best machine in this price range. Moreover, it has a nice design which is pleasant to look at, and being just 30 inches tall and 67 inches wide it is able to fit any room.