ProForm Smart Strider Elliptical Machine
Due to the fact elliptical trainers have become more and more popular recently, various brands offering a number of ellipticals of different kinds have filled the market of sporting equipment. The ProForm Smart Strider gives every consumer a clue why it is called so. Being a midlevel elliptical machine able to provide a good cardio workout it looks nice and performs not bad. Though there are certain things you need to know about this elliptical if you see it as your potential purchase.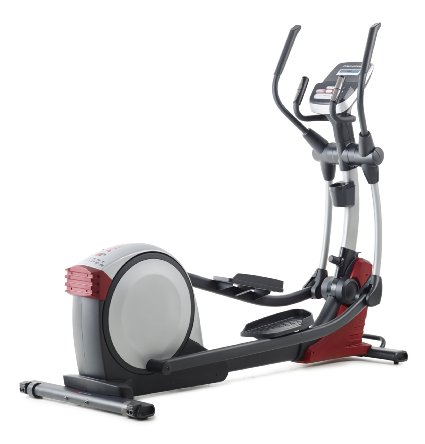 In spite of all the drawbacks of the ProForm Smart Strider, it is the best buy for beginners not only due to its features but also the price. If you want to get an elliptical trainer of perfect design, decent quality and with a range of features, consider buying the ProForm Smart Strider.
Check Current Price
on Amazon.com
Pros:
Fast assembly. There are no complaints about the difficult process of its assembly because the ProForm has most of its equipment pre-assembled. Still there are parts which need to be put together, but it's quite easy though.
Multi-user trainer. The ProForm Smart Strider allows you to adjust the stride length from 16 to 20 inches which makes it perfect workout equipment for several people. Moreover, adjusting the stride length you are able to target different muscle groups and have a more effective workout.
Nice body positioning. The ProForm Smart Strider offers you to stay in an upright position thus posing less stress on the muscles and engage your core.
Long grips. Despite his/her height, any user is able to work out and get a comfortable reach due to handle bar spacing.
SpaceSaver design. This elliptical machine will be suitable for those who don't have enough space in their apartment. If needed, it can be easily folded and moved to the storage room.
Oversized and comfortable pedals which are placed very close to each other. This helps to minimize strain on the hips and allows natural movement.
Cons:
It's loud when in operation. In their reviews many users claim that ProForm Smart Strider is noisier than other models.
You need to pay to get iFit subscription. This is mainly due to the low price of this elliptical machine, that's why iFit doesn't come with the package and you will have to pay an additional amount of $100.
Bad warranty. The frame is covered for life while there is only 1-year warranty on labor and parts.
If you think there is some information this review doesn't cover, you can read users' reviews on the ProForm Smart Strider by visiting Amazon. Otherwise, how will you know this elliptical is right for you?
Our Review
Like any other elliptical the ProForm Smart Strider is designed specifically for upper and lower body cardio workout. It deals with all the groups of muscles promoting motivational and challenging training. Being the best in its price range, though with tiny drawbacks, this elliptical trainer will be the best option for beginners who are willing to use it on a daily basis. Due to its nice design and SpaceSaver option, it can be easily folded and hidden.
The ProForm Smart Strider helps you to target your upper and lower-body muscles, burn calories and fat and tone your body. If you are still thinking whether you should purchase it, well, you certainly should. A number of useful features together with preset programs and various resistance levels make the ProForm Smart Strider the best buy.
Features
16 workout programs
16 SMR levels
Adjustable 16, 18, 20-inch stride
Big blue-tinted LCD screen
Dual-grip EKG pulse monitor
Soft upper-body grips
Oversized pedals
Adjustable leveling feet
SpaceSaver design
iPod compatible port
Maximum weight: 250 lbs
Conclusion
The ProForm Smart Strider is an average elliptical machine which is surely worth the money it costs. There are enough programs, nice design and quality parts; however, the customer service deserves to be better. With the ProForm Smart Strider you will forget about excess weight and meet all your fitness goals.